New Banfield partnerships explore antimicrobial use in pets
The World Health Organization has declared antimicrobial resistance as one of the top 10 global public health threats facing humanity. The continuing emergence of microorganisms that are resistant to one or more antimicrobial drugs poses a growing threat not only to the health of humans, but also to animals and our environment. Because the health of humans, animals, and our environment are interconnected—also known as One Health— addressing antimicrobial resistance entails understanding the patterns of antimicrobial use and resistance in all three sectors.
Banfield is collaborating with both the Companion Animal Veterinary Surveillance Network (CAVSNET) and the National Institute of Antimicrobial Resistance Research and Education (NIAMRRE) to better define the scope of antimicrobial use and resistance in pets in the U.S. By sharing data and collaborating with our partners, we hope to drive measures that encourage prudent antimicrobial use in pets to preserve the continued effectiveness of existing drugs that are medically important for both people and pets.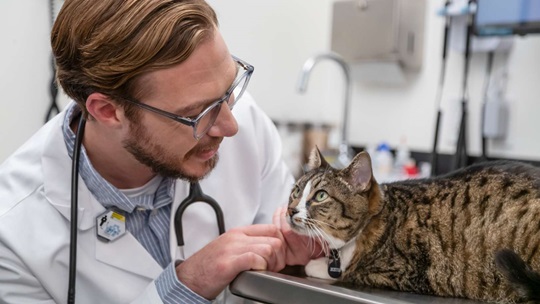 What this means for veterinary teams
Worsening antimicrobial resistance jeopardizes outcomes of infectious diseases in both human and veterinary patients. Understanding the patterns of antimicrobial use and resistance in animals — from the national to the hospital level — can empower veterinary teams to use these agents judiciously in their practices and achieve the best outcomes for their patients, both now and in the future.
Antimicrobial use and resistance
Antimicrobial agents are essential to treat infectious diseases in humans and animals, but long-term and/or widespread use can give rise to antimicrobial resistance. The global health implications of antimicrobial resistance are worrisome, with more than 2.8 million annual infections in the U.S. alone.
Since similar drugs may be used for infections in both animals and humans, resistant microbes that arise in humans, animals or the environment can spread to other sectors. To inform efforts to control antimicrobial resistance and maintain the efficacy of existing antimicrobials, we need reliable data on the patterns of antimicrobial use and resistance in each sector.
Banfield's network of hospitals and veterinary teams provides a unique opportunity to evaluate antimicrobial drug use and resistance in pets, and we are passionate about sharing our data, insights, and resources with the veterinary medical community. We are partnering with the Companion Animal Veterinary Surveillance Network (CAVSNET) and with the National Institute of Antimicrobial Resistance Research and Education (NIAMRRE) to characterize antimicrobial use in veterinary practice in the U.S.
CAVSNET
CAVSNET is a comprehensive disease surveillance system based out of the University of Minnesota that combines clinical practice data on small animals and equines from multiple electronic health software platforms. It is informed by the Small Animal Veterinary Surveillance Network initiative at the University of Liverpool. CAVSNET is working to fill gaps in knowledge of antimicrobial use and resistance among companion animals in the U.S. by collecting and reporting data across many clinics in various geographic locations.
Clinics that participate in CAVSNET can track antimicrobial use data internally to understand trends at a local level and, in the future, can benchmark their practices against those of other clinics.
Banfield is contributing to this effort with ongoing data-sharing around our antimicrobial usage and prescribing practices. All data shared is anonymized, in compliance with Mars data privacy standards.
CAVSNET plans to develop and disseminate evidence-based best practices for antimicrobial use in companion animal medicine to improve antimicrobial stewardship, guide effective treatment of animal infections, and reduce antimicrobial resistance. Antimicrobial stewardship resources are freely available on their Antimicrobial Resistance and Stewardship Initiative website.
NIAMRRE
NIAMRRE is a member organization connecting people, resources, and ideas to accelerate efforts to combat antimicrobial resistance. With focus areas in research, education, collaboration, and advocacy, NIAMRRE addresses prioritized gaps in knowledge related to antimicrobial use, stewardship, and resistance.
Banfield is sharing data with NIAMRRE to create dashboards that visualize antimicrobial use in support of its educational and awareness-building programs. One specific question of interest is whether broad use of the antibacterial and antiprotozoal agent metronidazole in young puppies is warranted or may be contributing to antimicrobial resistance.
A better world for pets – and people
A threat as serious and pervasive as antimicrobial resistance demands action from a range of stakeholders. By coordinating our efforts to address shared priorities, we can make more headway and capitalize on the diversity of thought and experience among different parties to formulate more robust approaches. Banfield is proud to harness the power of our data and to join CAVSNET and NIAMRRE in elucidating the scope of antimicrobial use and resistance in the U.S. pet population.
This knowledge will help to lay a foundation for strategies to promote responsible use of antimicrobial agents and, ultimately, control antimicrobial resistance and maintain the efficacy of antimicrobial drugs that both pets and people rely on.
Banfield is part of the Mars Veterinary Health practices. Together, they are committed to improving sustainability—benefiting pets, people, and the planet. The judicious use of antibiotics is critical to these aspirations, and to our profession's long-term ability to provide high-quality veterinary care.