Four tested strategies to destigmatize mental health at work, encourage help-seeking behaviors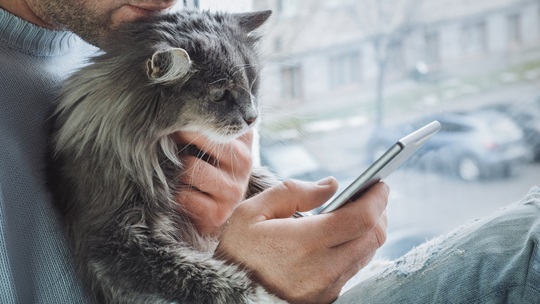 Conversations about mental health at work often center around how help can be extended to others, but new data from Banfield Pet Hospital underscores the importance of focusing on cultivating help-seeking behaviors among staff to truly create a culture of wellbeing and drive higher benefit utilization.
With the mental health implications of the pandemic palpable, organizations are increasingly leaning into addressing wellbeing in the workplace – from expanding benefits to hiring chief wellness officers. This is good news – it means businesses are joining the fight to destigmatize the topic of mental health, which is often a key barrier to people getting help. It's also a sign that organizations are on the right track to meeting the needs of the workforce of the future: a recent survey revealed Gen Z cites managing emotional health as the most important area they want their employer to support them on – above flexible work schedules and day-to-day financial support.
Yet despite business' best laid intentions and offerings, research has found the majority of people do not seek mental support. Well before 2020, feelings of stress, anxiety, depression, and burnout disproportionality impacted care professions like human and veterinary health: pre-pandemic, the suicide risk was twice as high among female nurses compared with other U.S. women; further, female veterinarians were found to be 2.4 times and male veterinarians 1.6 times more likely to die by suicide than members of the general population. With new data finding three-quarters of all U.S. workers report experiencing at least one symptom of a mental health condition in the past year, our society is at a critical juncture.
The pandemic has blurred the lines between work and home, and people are leaning on employers as a trusted source more than ever before. Edelman's 2021 Trust Barometer found organizations are the most trusted institution, ahead of government. People are looking to leaders for guidance, direction, and support.
It's not enough anymore for businesses to offer free counseling and access to wellbeing resources – if your workforce doesn't feel comfortable reaching out for help, they won't utilize them. With over 7% of Banfield Associates taking advantage of our mental health & wellbeing resources (nearly twice the average program utilization of 3-4%), below are some tested strategies to create a culture that fosters help-seeking behavior.
Ground up, not top down. Perhaps the most important component of not just building – but sustaining – a help-seeking work environment is nurturing a culture of health & wellbeing from the ground up. Business leaders offering the right benefits and access to care is critical, but people need to feel a level of community, psychological safety, and support in order to take advantage of them. There's so much power in teammates feeling comfortable enough to share their experiences with one another: "word of mouth" was the #1-way Banfield Associates reported learning about our mental health support resources.
One way to approach this is by creating grassroot "mini cultures" within your organization. Banfield's Diversity Resource Groups (DRGs) help people connect, listen to one another, share ideas, and act. As a result of creating safe spaces where people feel encouraged and comfortable speaking up, our PRIDE (LGBTQ+) DRG reached out to leadership about gender identity barriers experienced with one of our mental health vendors. They voiced their concerns and Banfield acted, ensuring the vendor adjusted their processes to use inclusive language to create a sense of belonging that's critical to mental health.
Culturally competent support matters. Outsourcing mental health services is a great way to offer professional help at scale. But a lot of organizations don't realize the unintended harm that can happen if the vendor isn't aware of what culturally competent support might mean in your industry. Veterinary professionals deal with a unique set of challenges, from highs of meeting a family's new puppy to lows of having to euthanize someone's pet. As such, our in-house licensed mental health experts created customized resources tailored specifically to veterinary professionals that we provided to our vendors. When our Associates reach out for help, our vendors have personalized cues to pull from so they know what's helpful to say to hospital teams – and what might unintentionally discourage someone from seeking help the next time they're feeling overwhelmed. We're encouraged by the results we've seen so far: 95% of Banfield Associates who contacted a mental health provider reported a resolution to the presenting issue they reached out about.
Understand your team's pressure points. Banfield started its health and wellbeing journey by taking a holistic approach, identifying five key dimensions that coincide with the unique challenges facing the veterinary profession: healthy mind, healthy body, healthy finances, healthy career, and healthy community. We knew that if we wanted our people to feel inspired to seek help and utilize our programs and benefits, they needed to be relevant to their specific needs.
For example, Banfield created "ASK - Assess, Support, Know" in 2019 to address the mental health challenges facing the veterinary profession head-on. "ASK" is the first suicide prevention training designed specifically for veterinary teams to help them recognize and address emotional distress in themselves and others. More than 25,000 individuals have experienced the "ASK" training, which Banfield made available as a free resource to benefit the entire industry and academia.
Associates and their family members also have access to free mental health assessments and counselling sessions with a licensed mental health professional to receive support, guidance and information on a wide range of personal issues.
We also know student debt has significant impact on the financial and thus mental and emotional wellbeing of veterinarians, with veterinary doctors having some of the highest rates of student debt – and debt-to-income ratio of any U.S. profession. As such, Banfield created the Veterinary Student Debt Relief Program to help address this burden. So far, the practice has contributed more than $20 million toward helping veterinarians pay off student loans and enabled more than $17 million in educational debt refinancing for Associates.
Additionally, Banfield helps its Associates create healthy communities by facilitating volunteer opportunities from inspiring the next generation of veterinary professionals to providing free preventive care to pets and owners in need. Studies show that such acts of altruism provide positive mental effects. According to the Cleveland Clinic, this includes increased self-esteem, less incidence of depression and lower stress levels.
While we know these efforts alone can't address all of our Associates' personal experiences or circumstances, they are a step in the right direction. Leaders should keep dialogues open to explore new, innovative ways to address the issues that are most pressing to their individual workforce.
Both high-tech and low-tech strategies can have a big impact. We believe in leveraging technology to meet our people where they are. For example, Banfield is piloting free access to the meditation and mindfulness app Headspace for our Associates. Over half of those accessing the app utilize it multiple times a week and report better sleep, a decrease in stress, and feeling more present.
Even technology-based solutions can be fairly basic, such as finding the right forms and cadence of communications to successfully reach your people, so they have the information they need to seek help when they need it. This can be using email or your employee-facing app to send regular reminders of benefits or sharing personal and inspiring stories of how people in the organization are seeking mental help to continue to break down stigmas and create a sort of "positive contagion" where others are inspired to do the same.
At Banfield, we've seen significant engagement and action stemming from strategic communications to our Associates regarding our benefit options and importance of self-care, with benefit utilization reaching over 11% at its peak as a direct result of information, resources and reminders shared via internal channels and social media. Our goal is to continue to drive high utilization through ongoing and thoughtful touchpoints with our people. It's not enough to offer the benefits, you have to consistently remind your employees that they're available to them.
Low-tech strategies can be just as impactful and help strengthen the grassroots "mini cultures" discussed above. This can mean regularly introducing simple health & wellbeing messaging at team huddles and empowering leaders at every level of the business to create habits or rituals that work best for their individual teams. For example, one of our 1,000+ hospital locations across the U.S. started implementing "pillow talks" at the start of their team huddles. The team would go around one by one and share if they needed more pillows that day, or if they had extra pillows to share. This was their way to signal to their teammates when they might need additional emotional support or "cushioning," or if they had the mental bandwidth to offer a hand – or pillows – to those who need it most. Routines like this not only help create that culture of psychological safety and support, they also enable leaders to get a real-time pulse check on how teams are doing so they can act accordingly.
The work should never be done. As part of Mars Petcare and the Mars Veterinary Health family of practices, we understand that to deliver on our purpose – A Better World for Pets – we must continue to work together across our ecosystem to take care of ourselves and each other. We wanted to share what we've learned to date from our efforts to address mental health for our Associates and the veterinary profession, but we will continue to evolve and expand programs and benefits to ensure we're always working towards going from "good" to "great."
Once leaders lay the foundation for a holistic health and wellbeing program – which for us meant identifying and acting on the five dimensions mentioned above – the next step is to start implementing operational policies that integrate ways of working that support mental health. Some organizations may consider focusing on flexible work schedules – for example, 87% of Banfield doctors set their schedules to work 4 days a week or less – or offering company-wide mental health breaks. Operational shifts such as these help to cement a culture that prioritizes health and wellbeing for the long-term. When people feel their company truly cares and is invested in their wellbeing, organizations can experience higher benefit utilization and a level of trust that empowers people to reach out when they need support.
The past two years have taught us the importance of a well-laid foundation that provides teams with the right tools, resources, and environment that enables them to seek and receive help. By taking these steps to create a culture of help-seeking behavior, organizations can be better equipped to support their people so they can focus on being their best selves at work and beyond.