Genetic risk factor identified for cryptorchidism in dogs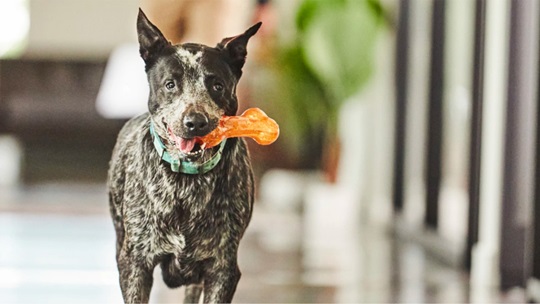 Cryptorchidism in dogs is relatively common but poorly understood. Researchers from another Mars Petcare brand, Kinship, leveraged Banfield's extensive database to complete a large-scale genome-wide association study to identify genetic risk factors for cryptorchidism in dogs. The top hit was a mutation in HMGA2 that is also associated with variance in adult body weight. The odds of having inguinal cryptorchidism were 27% greater for dogs with two copies of the mutation than for genetically matched controls without the mutation. In addition, dogs with inguinal cryptorchidism weighed significantly less than matched controls. The recently published study shows that integrating DNA data with rich clinical records can enable researchers to identify risk factors for complex inherited diseases in dogs.

What this means for veterinary teams
As we continue to learn more about genetic testing and combine genetic information with clinical medical records, this can allow more individualized and personalized care. In considering this newly identified mutation, individuals that carry this mutation can be identified earlier, allowing more strategic decisions about breeding practices. Risk profiles could be directly reported to clinicians, who could then tailor an appropriate monitoring or treatment plan for each dog and offer personalized advice to the client. By collecting the samples and data that make this research possible, Banfield associates are helping to advance veterinary medicine for the good of every pet.
Complexity of cryptorchidism
Cryptorchidism occurs when one or sometimes both testes do not descend into the scrotum and are instead retained in the inguinal or, less commonly, the abdominal area. It is considered a complex disorder, meaning it has multiple contributing factors that are not well characterized, limiting our understanding of its development. Cryptorchidism has a reported prevalence of 0.8–10% in dogs and is almost 3 times more common in small breeds. Cryptorchid testicles are unable to produce sperm and are about 13 times more likely to develop tumors and testicular torsion, a painful condition requiring emergency surgery.2 Dozens of gene regions potentially associated with cryptorchidism have been studied in many species, but its genetic background remains murky.
Pairing genetic and clinical data
To explore the genetic basis for cryptorchidism, researchers used more than 90,000 genetic markers in Wisdom PanelTM, a Kinship brand, to analyze DNA samples collected by veterinarians at Banfield hospitals across the United States and Mexico or submitted by consumers in the United States. Researchers consulted the pets' clinical records in Banfield's database to identify dogs diagnosed with inguinal or abdominal cryptorchidism and breed-matched males over the age of 1.5 years with no record of cryptorchidism in Banfield's database as controls.
Risk factors for cryptorchidism
The first analysis included 3,736 male dogs with inguinal cryptorchidism representing both pure and mixed breeds. The DNA marker most highly associated with inguinal cryptorchidism was a mutation in the gene HMGA2. The odds of having inguinal cryptorchidism were 27% greater for dogs with two copies of this mutation.
Next, researchers searched for genetic associations with abdominal cryptorchidism in 778 cases, but none of the results were significant. More samples might be needed to reveal any associated gene regions, but it is also possible that this form of cryptorchidism might not be heritable in the same way and a novel mutation may be responsible.
Inguinal cryptorchidism and adult size
It's interesting to note that the HMGA2 variant was previously associated with adult weight, particularly because cryptorchidism is more common in smaller breeds. When we examined the weight distribution of cases and controls, we saw that dogs with cryptorchidism weighed about 2.5 kg less on average than those without it. When we left out dogs with the HMGA2 mutation, however, there was no significant difference in body weight between those with and without cryptorchidism. We hypothesize that the HMGA2 mutation has dual functions in influencing adult weight and also increasing risk of cryptorchidism in dogs.
Researchers also looked for genetic associations with cryptorchidism within individual breeds. None of the 19 breeds that were represented by at least 25 dogs in our samples showed any significant associations between cryptorchidism and HMGA2. This result is probably due to the lack of genetic variation in HMGA2 within many breeds or to the modest increase in the odds of having cryptorchidism caused by the HMGA2 variant.
Studying complex disorders
These results highlight the potential for researchers to pair DNA data with robust and up-to-date clinical records to identify risk factors for complex inherited disorders. We note that analysis of variants that convey relatively modest increases in risk, which is expected for many complex disorders in the dog, will require large numbers (thousands) of cases. PetWare®, Banfield's unique database, was invaluable to this study. Future studies of complex disorders will rely on clinicians who diligently and consistently kept medical records, data experts who curate the data, dedicated owners who partner closely with their veterinary team, and the many individuals who contribute samples from their pets.
The power of the ecosystem
Being part of Banfield means you and your pet are part of the larger Mars ecosystem, populated by dedicated, passionate professionals committed to advancing pet health. These are represented by hospital associates, data analysts, geneticists, researchers, innovators, and more. Our ecosystem is uniquely valuable and supports our purpose: A BETTER WORLD FOR PETS.