Three ways to improve sustainability in veterinary medicine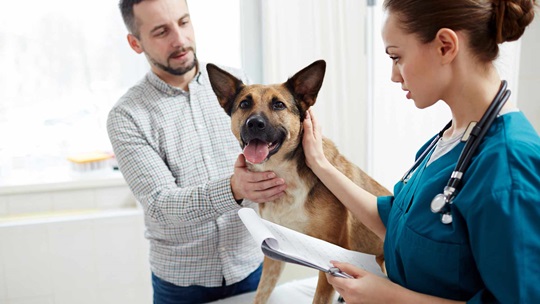 Many human activities significantly impact the environment, and these include caring for our pets. Although the environmental footprint of veterinary medicine is comparatively smaller than that of human healthcare, we all share the responsibility to moderate our impacts and protect our environment. In a seminar at the recent 2022 Surgery Summit of the American College of Veterinary Surgeons, Associates from the Mars Veterinary Health family discussed the environmental impacts of veterinary medicine, focusing on several that can be substantially reduced at the practice level. By changing resource management practices, hospitals can generate less material waste, minimize emissions of greenhouse gases, and help fight antimicrobial resistance. With targeted efforts, we can improve the environmental impacts of veterinary medicine.
Limiting material waste
Pet hospitals generate waste from medical products, cleaning products and activities, pet food, packaging, and record-keeping and communication. The principles of 'reduce, reuse, recycle' that were introduced to help eliminate household waste are also applicable in veterinary practice.
Hospitals teams can reduce their demand for disposable items and thereby reduce their waste by replacing bottled water with water distillers for autoclaving, assembling or selecting surgical or exam kits that contain only the needed items, using examination gloves only when necessary, and choosing refillable containers instead of disposable ones. Shifting to electronic systems rather than paper-based ones for record-keeping and communication can decrease paper waste.
Opportunities for reuse include medical equipment like reusable sharps containers and many textiles, such as gowns, incontinence pads, kennel mats, warming blankets, and scrub hats. Resources required for washing and preparation must be taken into account, however, and reusable items may be contraindicated by infection control measures in some instances.
Recycling is not the first pathway to pursue for waste reduction but can be used to improve impacts from certain types of waste such as paper, cardboard, metal, glass, and some plastic materials. Collection receptacles for recyclable materials should be accessible and clearly labeled to encourage use.
Reducing greenhouse gas emissions from anesthesia
Anesthetic gases are potent greenhouse gases, and because they are not metabolized or taken up by the body to an appreciable extent, almost all of the inhalant delivered is ultimately released to the atmosphere. While the relative contribution of anesthetic gases to overall carbon emissions in veterinary medicine is relatively low (~3–5%), they comprise a significant proportion (~15–20%) of direct emissions, which are most readily controlled by an individual practitioner or facility.
The most feasible means of controlling the emission of anesthetic gases include reducing fresh gas flow (FGF) rates and using alternatives to inhaled anesthetics. Appropriate FGF rates vary between rebreathing and non-rebreathing systems and should account for the patient's metabolic oxygen consumption and ensure that the volume of gas in the reservoir or rebreathing bag is sufficient for the patient to aspire.
Alternatives to anesthetic gases include complete intravenous options, such as propofol, alfaxalone, and ketamine, but these agents carry their own costs in terms of manufacture, transport, disposal, and electricity, and their use is unfamiliar to many practitioners. Adjunctive intravenous agents (e.g., opioids, lidocaine, and ketamine) are also available but require a thorough understanding of their pharmacology and appropriate delivery equipment. Appropriate patient premedication (with opioids, alpha-2 agonists, acepromazine, or benzodiazepines) alone can lower inhalant requirements. Locoregional anesthetic techniques should also be considered when possible.

Curbing antimicrobial resistance
Antimicrobial agents are essential in the treatment of infectious diseases, and increasing resistance to these agents among microorganisms jeopardizes the health of humans, animals, and our environment. Judicious use of antimicrobial agents can help to preserve the efficacy of these drugs and achieve the best outcomes for pets and people, both now and in the future.
Large-scale studies on antibiotic usage in companion animals are relatively scarce, but Banfield is collaborating with partners to better define the scope of antimicrobial use and resistance in pets in the U.S. and provides information that can help to guide appropriate interventions. Interventions that raise awareness of antimicrobial stewardship among both veterinary professionals and clients can help to change prescribing practices and reduce antimicrobial use. Staying up to date on professional guidelines for antimicrobial use is key for hospital teams. Communicating with clients about responsible antibiotic use and the importance of treatment plan compliance is also an important component of antimicrobial stewardship.

Extending our passion for preventive care to our planet
At Banfield, the world we want tomorrow is our purpose: A BETTER WORLD FOR PETS. To achieve this, we need to provide veterinary care that is sustainable and allows pets, people, and the planet to flourish. Our journey is driven by data, and we are taking a comprehensive approach to understanding and minimizing our environmental impact, while maintaining our commitment to quality veterinary medicine. This holistic methodology will impact every aspect of the work we do, from purchasing to transportation to antibiotic usage. With over 1,000 hospitals and 19,000 Associates nationwide, we recognize that we have the ability and responsibility to truly make a meaningful difference for our planet, benefiting Associates, clients, and pets.