Extending quality care to pets in their homes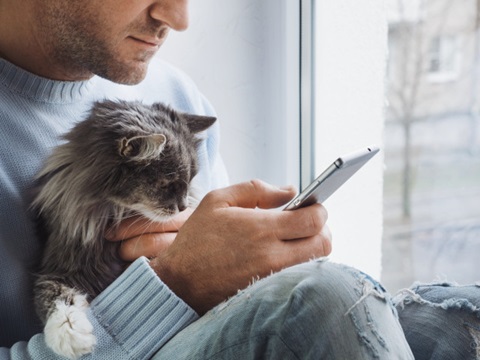 Virtual visits, in which patients and care providers meet via videoconference using smart phones, tablets, or PCs, have become a vital component of human healthcare delivery in the US. This innovative care delivery model shifts the focus to patients, offering convenience, greater access to care, and improved health management. Because these benefits align with several domains of quality in Banfield's framework for veterinary medicine, we worked to translate this model to veterinary medicine. We continue to develop new technology solutions and highlight appropriate use cases to support scaling of virtual visits throughout our network. Thoughtful implementation of virtual visits can broaden career opportunities for veterinary professionals, reinforce their relationships with clients, and improve the quality of veterinary care, ultimately creating a better world for pets.
What this means for veterinary teams
Virtual visits provide new ways to care for pets, expand career options for veterinarians and technicians, and strengthen connections between hospital teams and clients. By addressing the unique challenges of virtual visits and identifying the best tools and opportunities to implement them, we hope to encourage broad application of this innovative care delivery model in veterinary practices throughout and outside of our network.
Bringing virtual visits to veterinary medicine
Virtual visits are live, synchronous, digital, video-based interactions between clients or patients and healthcare teams focused on diagnosis or treatment. Whereas other common telemedicine approaches like "chats" are asynchronous and text-based, virtual visits offer "face time" that can be invaluable in delivery of quality care. The prevalence of virtual visits in human healthcare skyrocketed in early 2020 as the COVID-19 pandemic disrupted normal models of care delivery, but the concept has existed in some form for more than 50 years and was gaining traction among providers and patients alike before the pandemic. Because this innovative model aligns with our focus on quality care, we wanted to translate it to veterinary medicine.
Three key benefits of virtual visits
Quality care is paramount at Banfield, and the ability of virtual visits to improve both the quality of veterinary care and the safety of our Associates, clients, and patients is a huge plus. Virtual visits allow Associates to provide care when in-person appointments are prohibited or undesirable (for example, during the COVID-19 pandemic, or when bringing a pet to the hospital creates discomfort, stress, or anxiety).
They can also reduce wait times and potentially enable teams to care for more pets. A second benefit of virtual visits is the expansion of career options for veterinary professionals by engaging technicians in care delivery and potentially allowing DVMs to work outside of a hospital in the future. As a bonus, broad adoption of virtual visits could, in turn, help alleviate talent shortages across the veterinary profession. Furthermore, virtual visits can deepen connections between veterinary teams and clients by allowing more frequent interaction and more personalized care.
Scaling up virtual visits in veterinary care
We recently launched and will continue to evolve a new technology platform to support virtual visits within Banfield. As we scale, we are committed to addressing some of the unique challenges of conducting virtual visits in veterinary medicine. For instance, regulations that govern the provision of virtual veterinary care vary by state. We support the development of standards, protocols, and best practices for delivering virtual care. As one example, we are beginning to identify the use cases likely to be most appropriate for this model. These might include behavioral assessments and treatment, nutritional consultations, follow-up care, and chronic illness monitoring.
Creating a positive impact
Since launching virtual visits, we've gotten feedback from clients who appreciate access to their veterinarian without always having to bring their pet into the hospital. A recent Banfield client stating, "Since I have a chronic illness, virtual visits offer a much easier way for me to get medical care for my pets…Would recommend this to anyone." The added convenience and increased connection are making a meaningful impact. We hope that in the future, every pet can reap the benefits of virtual visits.