Cultivating CVTs: Attracting talent, building skills, and creating opportunities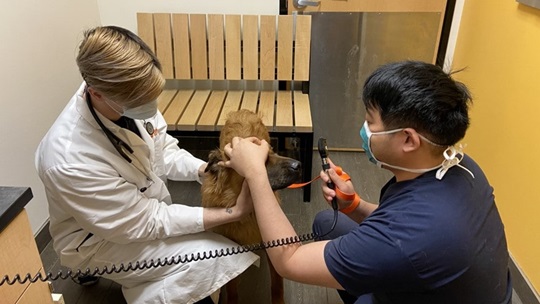 The veterinary profession is facing a shortage of care providers and at the same time an increased demand for services. We need to find new ways to take care of more pets. Banfield has implemented creative programs that empower our Credentialed Veterinary Technicians to practice at the top of their license. From fostering career development to introducing innovative care models, the breadth of our CVT programs benefit veterinary associates, clients, and patients throughout our network.
What this means for veterinary teams
Targeted efforts to recruit, develop, and more fully utilize CVTs enable quality pet care and can improve client experiences. It also boosts job satisfaction among CVTs and the entire veterinary medical team, supporting the sustainability of this role in veterinary medical care.
Building a talent pipeline
We start at schools, partnering with those that offer CVT curricula to raise awareness among students of future employment opportunities. Our campus ambassador program launched in 2019 at 20 schools, and our externship program launched in 2018 and has hosted 570 student externs since then.
Over the past decade, we've devised several programs to encourage our Associates to progress their careers and become CVTs. In 2013, we partnered with Penn Foster to launch a tuition assistance and reimbursement program for a two-year veterinary technician associate degree via an AVMA-accredited curriculum. More than 2,400 associates are enrolled and 135 have graduated so far, making them eligible to take the Veterinary Technician National Exam.
Innovative care models
To make the most of CVTs' skills and knowledge, we are exploring new ways to involve them in patient care. In 2019, we began offering CVT appointments to existing clients. These appointments can include assisting doctors with physical exams, routine diagnostics, and treatment performed by CVTs at the direction of a supervising veterinarian. This innovative care model strengthens the CVT and veterinarian partnership by empowering doctors to delegate appropriate tasks to CVTs and giving veterinarians more time for attention to new patients or more complicated cases.
Fostering career development
For those Associates who are already CVTs, we want them to have opportunity to learn new skills and progress their careers. In 2020, we partnered with Royal Canin to pilot our Pet Nutrition Advisor Program. Associates who completed the program were empowered to start conversations and nutrition advice sessions with clients about the ideal diet and feeding instructions for their pets.
The success of the program led to its expansion in July 2021 with more than 1,000 enrollees, plus the addition of an Advanced program, which offers additional disease-focused nutrition education as well as more extensive client communication training.
In September 2021, we launched our Veterinary Assistant and Veterinary Technician Development Program, a structured skill development program that establishes clear career paths, duties, and compensation for these roles. Also in 2021, we expanded our pilot Educational Pathways partnership with InStride, allowing Associates to complete online STEM-related undergraduate degrees at Arizona State University with tuition paid for by the practice. These partnerships provide further education for CVTs to grow their careers.
A BETTER WORLD FOR PETS
At least 1.3 million pets have been seen by CVTs in 800 of our hospitals since we began offering CVT appointments to existing clients in 2019, expanding our opportunities to provide quality care. Banfield knows that credentialed veterinary technicians are essential to our practice and will continue to create opportunities for them to join, stay, and grow with us. With their support, we continue to deliver on our purpose: A BETTER WORLD FOR PETS.