Steps toward more equitable veterinary care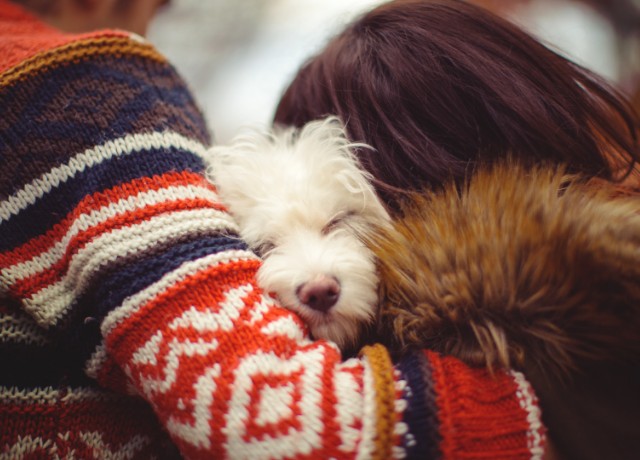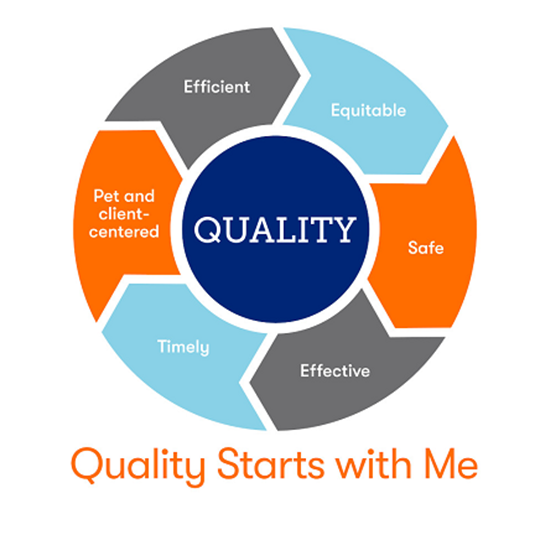 Banfield's Domains of Quality act as a holistic framework for the veterinary care we strive to provide. In 2020, we added "equitable" to this framework, reflecting an increased commitment to addressing inequity in veterinary care. Care that is equitable does not vary in quality based on the characteristics of either a pet or a client. In service of equitable care and our ongoing pursuit of quality, we have focused efforts on several fronts.
We began investigating "veterinary deserts," geographic areas where limited access to veterinary care may lead to health outcome disparities for pets. The learning and development team developed a learning module on culturally competent care to help veterinary professionals understand the impact their biases can have on the care they provide to pets. The client experience and advocacy team also continued to expand our translation and interpretation services.
There is still much work ahead to bring equitable care to all pets, and we are dedicated to continuing to advance our quality program with this goal in mind.
What this means for veterinary teams
Equitable care at Banfield means we aim to provide each pet we see with the same high-quality care. Along with the efforts described here, our quality standards for anesthetic procedures exemplify how veterinary professionals can put their commitment to equitable care into practice. We will continue to share our findings with the veterinary community to support the implementation of equitable care in our profession.
Identifying veterinary deserts
Across the US, the distribution of veterinary practices is not even, and some geographic areas, so-called veterinary deserts, lack sufficient access to veterinary services. We have begun identifying these areas and assessing health outcomes of pets who live nearby. Initial data analysis shows a statistically greater relative risk of preventable disease for pets living in or around veterinary deserts. This finding has led us to focus on creating a long-term, sustainable approach to quality care in veterinary deserts, including work with academic institutions like Lincoln Memorial and the University of Tennessee, as well as our own Banfield Foundation.
Encouraging culturally competent care
Communication gaps and cultural barriers among veterinary professionals and clients can compromise the development of deep and respectful relationships, ultimately putting pets at a disadvantage. Equitable care relies on us as care providers to be aware of our biases and consciously work to overcome them. These objectives are the foundation of our learning module on culturally competent care (CCC). Participants learn about the current state of diversity in the veterinary profession and reflect on their personal implicit and explicit biases and how they impact relationships with peers and clients and the care provided to pets.
The CCC learning module is available to more than 70,000 associates throughout the Mars Veterinary Health family, allowing us to collect data and insights from veterinary practitioners across all practice settings. What we learn will enable us to develop a larger, more evidence based CCC training to share with the wider veterinary industry.
Expanding translation and interpretation services
Translation (written communication) and interpretation (oral communication) services are pivotal to help clients and veterinary professionals communicate about pets' needs. Banfield offers 9 single topic brochures and 100 client handouts on various medical topics, in Spanish and English, in each of our 1,000+ hospitals. We have also scaled and implemented interpretation services across our network to provide easy and free access to interpretation for over 350 languages (including American Sign Language (ASL)).
Adding video interpretation services to mobile tablets allows associates to leverage ASL and foreign language interpretation services anywhere in our hospitals. In 2020 and 2021, interpretation services were provided more than 36,000 times, and video calls, (used to provide ASL communications) have been used over 1,600 times since 2020. That's almost 40,000 encounters where vet teams and clients could communicate more effectively about pets' needs.
Conclusion
Because of the size and reach of our hospital network and quality program, Banfield has a unique opportunity to advance quality initiatives, including those described here focused on equitable care. We are committed to pursuing these initiatives and to sharing our findings with the veterinary profession via continuing education, sponsored lectures, and major veterinary conferences to help identify and remove the barriers to care that many clients and pets face.